I was sent a Baby Stella Peach by Manhattan Toy so that I can share my views to my readers. No monetary compensation was received, all thoughts shared are my own.
My daughter will be turning three in January and for the past few months, I was able to see the big difference on how she plays. She started mimicking me in terms of the things I do. Most of the time I sneak up on her only to see that she is playing mommy to her dolls-giving them an imaginary bath, cooking for the babies and most of the time just plainly talking to them.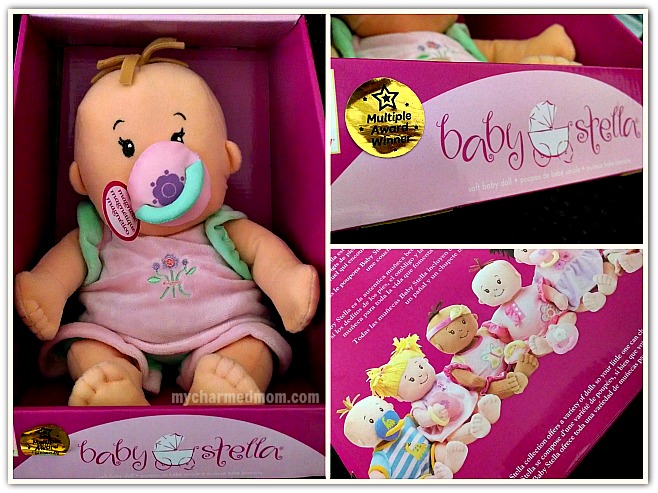 Baby Stella Peach is manufactured by Manhattan Toy which started in 1982 and pioneered the use of non-traditional fabrics in toy design and also introduced delightful new body styles in soft toys.
Our Baby Stella is delightfully detailed, from her lifelike toes, belly button and plump tummy, to her soft fleece hair and embroidered features. This beautiful doll comes with a removable diaper; a super-soft, two-piece sleeper outfit and a pacifier that attaches magnetically to her mouth. Toddlers will love cradling, dressing, and caring for this baby.
Baby Stella is so lovable even at first glance. My daughter immediately hugged her after I have removed it from the box and kissed her forehead (just lke what I also do to her). My daughter was first intrigued with its magnetic pacifier which you can take off and put back on her mouth.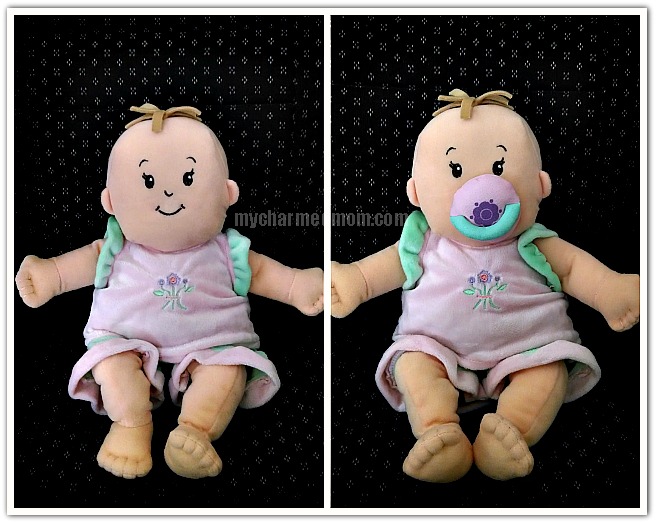 The doll is no doubt made of quality material, it is so soft that make it so huggable. The doll's body parts are so detailed and has a removable diaper and clothes that for a child's point of view, it seem that they are really taking care of a little baby.
I like that it promotes role play especially to toddlers like my daughter which enhances their creativity and imagination.
My daughter never let go of Baby Stella eversince I introduced it to her, in fact she carries it everywhere and even goes to sleep with it. This is a highly recommended toy for girl toddlers if ever you want to develop your child's empathy, language and problem solving skills.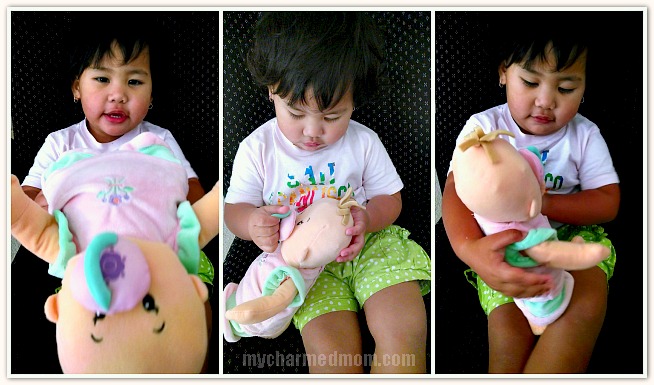 Where to buy?

Baby Stella Peach is available at www.manhattantoy.com for $35.00 where accessories like the feeding set, snuggle sleeper, high chair and even a Baby Stella Doll Boy can be bought. A lot of toys can also be found at the website which can be great gift ideas not just for the Holidays but for other occasions all year round.
Check out Manhattan Toy's Pages : Facebook | Twitter | Pinterest and Youtube channel for more information and updates regarding their products.
Win it!

Get a chance to win a Baby Stella Peach from Manhattan Toys by checking out the Santa's Little Helper Giveaway Hop!
Baby Stella Peach by Manhattan Toy is included in my 2013 Holiday Gift Guide together with some awesome gift ideas.