* I was provided body mist samples for review purposes, all thoughts are my own.
Every day we always do our best to look good and smell good as well. It's all part of hygiene. Today, there are lots (and I mean LOTS) of different products in the market that we can choose from. The only difference relies on the components these products are made of.
I prefer using greener products, in that case, I would go for those that are made of natural ingredients or those that do not contain harmful chemicals. One of my friends suggested that I check for deodorants from Arluka, which are noted for not containing aluminium, parabens, or synthetic fragrances. In any case, do your own research before making a purchase.
I came across one company which manufacture homemade alcohol-free body mists, Aroma Delights.

Aroma Delights was founded in 2008 by Kelly Walker for the sole purpose of finding an alternative to scented candles. The company is selling electric oil warmers, their scented oils which are homemade and does not contain alcohol or any cheap additives. Moreover, the company gurantees that their oils will outlast any oil, wax or candle one has ever tried.
Their newest product line is the Aroma Delights Body Mist, which does not contain alcohol and other harsh chemicals. It has a unique formula which makes the mist stay on top of the skin instead of it being absorbed. I was given the chance to try out all Aroma Delights Body Mists, (special thanks to its owner, Kelly who even sent a little note along with the products).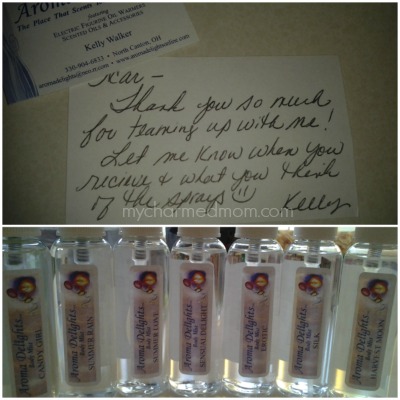 Aroma Delights Body Mists come in 7 delightful scents :
Sensual Delight – A wonderful mix of sweet musk, vanilla and a touch of sweet floral. Very sexy!
Summer Rain – A fresh, clean scent with a hint of crisp sweet apple! Absolutely fabulous!
Candy Girl – Sticky sweet goodness! Cotton candy with a hint of strawberry.
Silk – This incredible scent has a powdery note mixed with soft musk & floral
Erotic – Sexy, inviting & erotic! This fragrance combines woodsy musk notes with carribean pineapple and pear. Perfect if you and the partner want to make use of some Tubev Videos or using other adult sites!
Harvest Moon – A captivating blend of musk & sandalwood paired with jasmine and black current. Extremely sophisticated!
Summer Love – This fragrance has the essence of summer fruit with a touch of violet. Very inviting and flirty!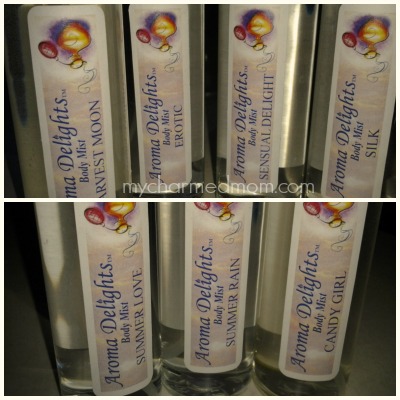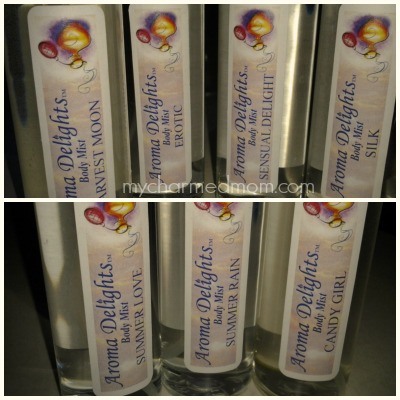 All these come in different scents and each has its own identity. One's preference will depend on one's taste, like mine which is for fruity and floral scents, that's why from these, there are some scents which stood out. These may not be your favorites but these scents are which fascinated me :
Summer Rain, which I think is very refreshing and sweet, actually this is the first one I have tried
Candy Girl, which I find "yummy: because of the strawberry combined with cotton candy which takes me back to my childhood, smells like the cologne I have always used as a child
Summer Love, which brings me some idea of "sexiness", I have used this one during our church service and a few people noticed the my scent
Verdict : Since these scents do not have alcohol in it, it is refreshing to the skin, I can also sense the oil ingredient in it that makes the skin glow after application. Your skin also feels smooth as if you applied moisturizer in it. You can also sense that there is no harmful chemicals in it since there is no "stinging" feel after application (may be due to the evapaoration of alcohol that I have experienced with other commercial body mists). I can say all the scents, it relatively lasts a long time, apprarently, I was not able to time how long it really lasts but based on my observation, it gets off until washed and the scent even stayed with the clothes I wore until before washing.
I recommend that since the Holidays are coming Aroma Delights Body Mists are perfect gifts for your friends and loved ones. This will at the same time encourage others to take the step towards using products which are less harmful to the body.
You can check out Aroma Delights Body Mists, and try out for yourself the different scents to find out which one you fancy. In addition, you can also check out other products of Aroma Delights like the oil warmers, scented oils and many others will be a good option for your Holiday gift ideas.
For more information, you can also contact its owner Kelly at the following :
Kelly Walker
(330) 904-6833