We may not realize but our oral health is as important as our physical health. We may not also know that certain conditions in our mouth can largely affect the rest of our body.
I was sent a 15ml-bottle of OraMd, The Mouth Doctor so I can try the product and share my honest opinion about it to my readers. 
OraMD is made by Trusted Health Products, an American company that is committed in bringing the most effective and highest quality products available in the world today. All their products are GMO-free, 100% Pure & Natural, with absolutely no additives or fillers of any kind.
As a mom who is always on the lookout for alternative natural products, I was curious with this 100% Pure Liquid 3-in-1 Toothpaste, Mouthwash and Breath Freshener.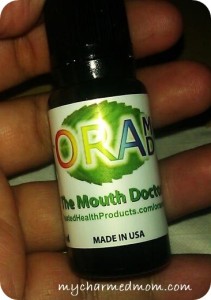 OraMD is called the Mouth Doctor as it kills the 22 harmful bacteria that lead to gum disease and other oral health problems, because of this it is recommended by dentists worldwide. This mouth doctor contains pure ingredients  which are : 100% Natural Almond, Spearmint and Peppermint Oils. These ingredients help create a healthy environment in our mouth.
The first few times I used it for brushing, it was really weird. The fact that I know it is oil being brushed on my teeth left some "eeky" feeling. But one thing I noticed after using it is that I feel fresher and cleaner for a longer period of time.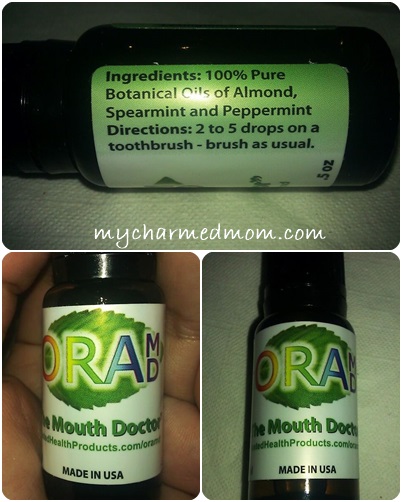 The best thing about OraMd is that it is vegan and is not tested on animals. Its formulation is also safe for everyone ages 3 and beyond and even for people who has braces, veneers, bonds, crowns, fillings and dentures.
Using the OraMD 4-Step Oral Hygiene Program could prevent expensive oral care costs in the future, you'll be empowering your mouth with the best tools needed to regain and sustain your oral health.
One bottle lasts a month (2 drops per application) using the 4 step process-Brush, Floss, Rinse, Refresh and it's guaranteed to bring favorable results.
In terms of savings, you have at least 39% month-over-month compared to Crest Pro-Health, when you use the OraMD Starter Pack as a toothpaste, mouthwash and breath freshener as shown in the comparison below: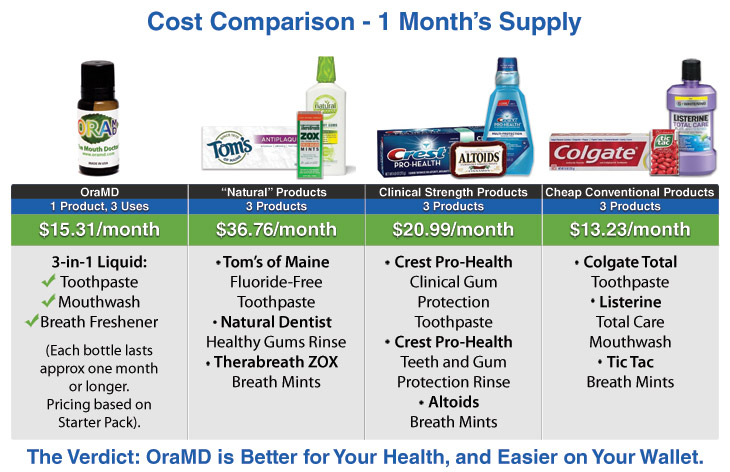 Overall, more than the natural goodness brought by OraMD, we can be guaranteed that we're using a safe product for our oral hygiene in addition to saving money to prevent expensive oral care costs in the future.