In this age and time when going to school seem like a staple to kids in our country and community, there are still parts of the world where education is prohibited, Sad to say that in those areas, education is limited and given to the just a few-not the girls.Though shocking as it may seem, this issue is unperceived.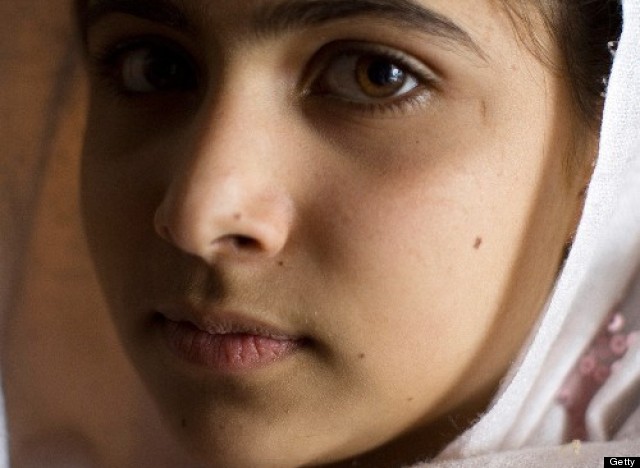 photo source : huffingtonpost.co.uk
Malala's Story
The world was shocked with the news about Malala Yousafzai, the 14-year-old Pakistani girl shot by the Taliban for demanding that she and other girls go to school. Initially the Taliban issued an edict that bans girls from attending school. Malala who disputed this, was forced to flee from her village when the Taliban forced the closure of her school and labled her campaign as an "obscenity".
Three years ago at 11, Malala told in a blog, 'I was afraid of going to school because the Taliban had issued an edict banning all girls from attending schools.' She described how, 'On my way from school to home I heard a man saying 'I will kill you'. Banned from school she told the world that, 'my real name means 'grief stricken'.'
photo source : tribune.com.pk
Malala's story gained support from all over the world. I encourage everyone who is reading this post to take a minute to sign this petition and support #IamMalala Campaign as Gordon Brown, Former UK Prime Minister Gordon and the UN Special Envoy for Global Education – and his wife Sarah spearheaded this campaign and will deliver the following petition to the Pakistani president on this day, November 10 :
providing teachers, resources and financial help for families – to get girls to school and we agreed that the office of the United Nations Special Envoy for Global Education would send a delegation to Pakistan to agree practical proposals to turn the promise of education for every girl into a reality by the end of 2015, the deadline for achieving the Millennium Development Goal of education for every child.
to draw up a plan to put Pakistan's five million out of school girls and boys to school
We call on Pakistan to agree a plan to deliver education for every child.

We call on all countries to outlaw discrimination against girls.

We call on international organizations to ensure the world's 61 million out of school children are in education by the end of 2015.
This is a true story, a reality that happens in one corner of the world, an inspirational one that made me feel so astounded. The courage of this young girl to fight for her education left me speechless. I am out of words for her spirit and determination. This is also a call for those girls all over the world who can freely go to school, who has the access to education and has the full privilege to earn a degree-to take their studies seriously. We might not know, somewhere, a girl gets shot just because she is fighting for her right to be educated.
Source of information and video : http://educationenvoy.org
This is a post written for Global Team of 200, a highly specialized group of members of Mom Bloggers for Social Good that concentrates on issues involving women and girls, children, world hunger and maternal health.