Welcome to the Green Christmas Giveaway Hop, hosted by Happy Mothering, Going Green with Grizls and The Reynolds Mom.
My Charmed Mom has joined other Green Moms Network members for this giveaway hop and will be giving away an amazing line of products. As you all know, I am always in constant search of green products that are both of good quality and affordable.
My Sponsor :
products provided by :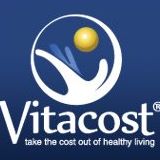 Isvara Organics
Isvara Organics is a cosmetics company founded upon the belief that the best way to promote and protect the natural beauty of your skin and hair is through the use of vital plant nutrients. We have worked diligently to bring you a superior professional product that will give you amazing results without the chemicals that are being utilized by many of the leading professional beauty product manufacturers today.

Our products are tested on people, never on animals. Our packaging is made from recyclable materials. Isvara Organics donates a portion of its profits to non profit organizations.
My Giveaway :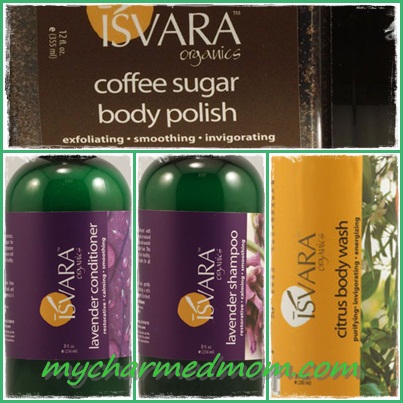 One lucky reader of My Charmed Mom will get a chance to win the following amazing products ($62 Value)
Isvara Organics Body Wash – Citrus – 9.5 fl oz ($11.95)

Crafted with organic aloe, lavender, chamomile and a blend of citrus derived essential oils, this body wash is sure to delight your senses. This amazing body wash is rich in beneficial protein, skin nourishing oils, and antioxidants.
Isvara Organics Body Polish – Coffee Sugar – 12 fl oz ($11.95)

This decadent, aromatic body polish will leave your skin soft, smooth & nourished as if you spent a day being pampered at the spa.
Isvara Organics Conditioner – Lavender – 8 fl oz ($19.95) :

Enriched with lavender and seaweed extracts, ingredients that have been drawn upon for thousands of years for their ability to promote beauty and health, this unique conditioner will leave your hair shiny, balanced and healthy. Suitable for all hair types.
Isvara Organics Shampoo – Lavender – 8 fl oz ($17.95) :

This sulfate-free shampoo is infused with lavender, one of the most effective oils in natural cosmetics. Formulated to help calm and nourish dry, frizzy and/or chemically treated hair. This shampoo will help to leave your hair healthy, shiny, and more manageable. Suitable for all hair types.
This giveaway will run from November 28 until December 7 and is open to US residents aged 18 and above. Please use the form below for your entries.
.
There's more…
Our hosts are featuring 5 fabulous grand prize packages from these green and natural brands: For Your Bug-a-Boo, Blue Manatee Boxes, Bulk Herb Store, Snug Bug Diapers, Nosefrida, My Pretty Playhouse, Wonder Forge, Kelly Kits, Kerrific Online, LibreTea, Grounds for Change, Zulka Sugar, Justin's Nut Butters, Better Life, ReuseIt, Strawesome, generationMe, Soybu, Purely Gorgeous, A Mothers Design, Dr. Bronner's and Xmittens!. Click here to enter the grand prize.
50+ members of the Green Moms Network have come together to offer you tons of chances to win green-themed Christmas gifts! There's sure to be something for everyone on your list. We hope you'll discover some great new brands to add to your Christmas list too!
Disclosure : This promotion is in no way sponsored, endorsed or administered by, or associated with, Facebook. You understand that you are providing your information to Happy Mothering, Going Green with the Grizls and The Reynolds Mom, and not to Facebook. Please note that Happy Mothering, Going Green with the Grizls, The Reynolds Moms and the Green Christmas Gift Giveaway bloggers are not responsible for sponsors that do not fulfill their prizes. We have represented each sponsor with the expectation they will fulfill their prize and in a timely manner. We will contact the sponsor regarding your prize(s). The sponsors, in most cases, are shipping their items to you directly. We will make every effort to assist you obtaining your prize. If there is an issue with a sponsor, please notify the blog you won a prize from within 4-6 weeks for assistance, after that we may be unable to assist you.